Competency Dictionary
Build competency models tailored to the organization's strategy, goals, and culture. Create a framework of core competencies for an integrated talent management system. 
One-time fee. No annual renewal fees.
Competency Dictionary With Proficiency Levels
In This Competency Matrix Format – By Job Level And Level Of Proficiency
(Examples: "Developing Others" & "Analytical Thinking") – See Example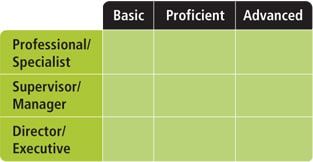 The List of Competencies Can Be Used To Build Competency Models Like These
Competency Dictionary License Included With The Purchase Of These Products And Services
Intellectual property licenses for organizational-wide use of the:
Consulting services for the development of customized competency models or competency-based applications
Core Competencies – Leadership Competencies – Functional Competencies
Purchased By These Organizations
Are you looking for a simple, flexible, easy-to-use, and less-costly alternative to HRSG, Korn Ferry, SuccessFactors, and Cornerstone? Check out our competency library and interview guides package. These organizations did, and choose Workitect:
Air Canada
AMICO-Gibraltar Industries
Aptar Group
Baker International
Bank Independent
Bob Barker Company
Blue Cross Blue Shield of AL
Blue Cross Blue Shield of MA
Cadence Aerospace
State of California
Capital-Lumber
cbm Canada
Centare
Central Bank of Belize
Central Pacific Bank
Chicago Transit Authority
CustomInk
The Dairy Farm Company Ltd. (Hong Kong)
Davenport University
Discovia
Enclos Corporation
ENSTAR Natural Gas
First Commonwealth Financial
Foresters
Fortune Pharmacal
Fulton Hogan
General Board of Pension and Health Benefits
GTECH Corporation
Gulf Investment Corporation (Kuwait)
International Capital Trading LLC
Keryx Biopharmaceuticals, Inc.
KIK Custom Products
City of Las Vegas
Legal and General America
Legumex Walker Canada
LinkedIn
Magellan Health
Mary Kay Inc.
Matthews International Capital Management, LLC
Maxion Wheels
Meat & Livestock Australia Limited
Menasha Corporation
Diocese of Metuchen (NJ)
Missouri Employees Mutual
Oman Oil Refineries and Petroleum Industries
Otter Tail Corporation
Pension Benefit and Guarantee Corporation
Phoenix Contact, Inc.
Red Hat
St. Johns River Water Management District
S&C Electric Company
S&D Coffee & Tea, Inc.
Security Finance Corporation
Charles Schwab Corporation
SynteractHC
Airports Authority of Trinidad and Tobago
Volume 9, Inc.
Western Health Advantage
City of West Palm Beach
Yoco Technologies (South Africa)
Implementation Option
Consulting services are available to help a Dictionary licensee effectively utilize and apply the dictionary. Examples of the services can be provided include:
Developing a competency framework. Identifying the organization's key core competencies reflecting its mission, values, culture, and strategy.
Developing a strategy and business case for adopting competency models in your organization (or revising the existing models and approaches).
Delivering a customized 2-day on-site session to prepare your implementation team to build the desired behavioral and technical competency models.
Creating a detailed project plan for your initial models.
Advantages Of This Dictionary
Comprehensive, But Simplified
In language that is easy for everyone to understand.
Multiple Applications
Here are a few examples of applications you can create:
Create competency models for your organization,
Modify competency definitions to fit your corporate culture and business needs,
Integrate the competencies and definitions into your interview tools (or use our Competency Interview Guides that are included with the dictionary),
Create competency-based job profiles and descriptions,
Load competencies and development options (listed in our Competency Development Guide) into your performance management or talent management system,
Include competencies and definitions in performance reviews,
Include assessment of competencies in succession planning process.
Customizable
An intellectual property license gives you the freedom and flexibility to copy and modify the content for use within your organization. You'll save, time and money and have the confidence that your work products are based on tested, research-based content.
Flexible
This is not a packed software program. It is intellectual property content that you can use in any way you choose, and integrate into your own HRIS or one you that purchase.
Cost-Effective
One-time fee, with no annual renewal fees. The fee is calculated based on the number of employees in an organization who will be covered by HR processes that contain Workitect competencies. This often excludes hourly-rated employees.
NEW! Exclusively For Dictionary Licensees
Quick-Start Competency-Modeling Program
Use the dictionary to build a competency model now! Follow the process described in this self-instructional program drawn from our Building Competency Models certification workshop. Learn More.
Competency Model Templates
Customizable generic models for 12 positions. Learn More.
Discount On Building Competency Models Workshop Tuition Fee.
License included with license for Competency Interview Guides, Competency Development Guide, and More.
FAQs
1. Format – In What Format Will The Dictionary Be Available?
It will be provided in a Word document, Excel spreadsheet, PDF, and online on a web page accessible with a password.
2. Build Our Own – Can We Create Our Own Dictionary Rather Than Purchasing A Generic One?
You can. But it will cost your organization a lot of time and money to replicate one like ours that is based on over 30 years of research and practical experience in building models. You can buy ours and customize it to reflect your organization's culture, language, and performance expectations.
3. Off-The-Shelf Models – Can We Buy Off-The-Shelf Competency Models And Avoid Purchasing A Dictionary? Don't Jobs With The Same Title Require Pretty Much The Same Competencies In All Organizations?
Each organization has its own culture and "way of doing business". Even for jobs with identical titles, job success in one organization will require some competencies that are different in another organization. Even a small difference could be critical, which is why we only build custom models or teach internal consultants how to build their own models.
4. Technical Competencies – How Can Technical Or Functional Competencies Be Included In Competency Models?
These competencies can be determined through interviews and expert panels that are conducted as part of the model building process. The identified competencies can then be listed under the Technical Expertise (#21) competency in our dictionary.
5. Certification – Do We Have To Be "Certified" To Use The Workitect Dictionary?
No. But, satisfactory completion of our Building Competency Models workshop is strongly recommended for anyone interested in acquiring an intellectual property license for our Competency Library. Completion of the workshop ensures that use of the Dictionary is built on a research foundation, applied practice, and the knowledge to effectively implement a competency-based human resource system in your organization.
6. Combine With Another Dictionary – Can We Integrate The Dictionary With Another One We Have Purchased From A Different Provider?
Yes. You can customize our dictionary and create a "derivative" that combines our competencies with ones you have created and ones in other dictionaries.
7. Upload Into HR System – Can The Workitect Competency Dictionary Be Uploaded Into A Talent Management Or Human Resource Management System?
Yes. You can have the competencies uploaded into any system, such as those offered by SAP or Halogen. Our competency library has been pre-loaded into Halogen's system.
8. Updates – Will The Dictionary Be Periodically Updated With New Or Revised Competencies? Will We Be Charged For The Updates?
Updates will be made no more than once a year. The most recent update was made three years after the previous update. Each update will cost $500.
Contact us for additional information and pricing.
Integrate into your HCM system
The content of the Workitect Dictionary can be customized and integrated into the talent management, human capital management, and human resources management software provided by Workday, ADP, SAP Success Factors, SABA Halogen, Cornerstone, and others.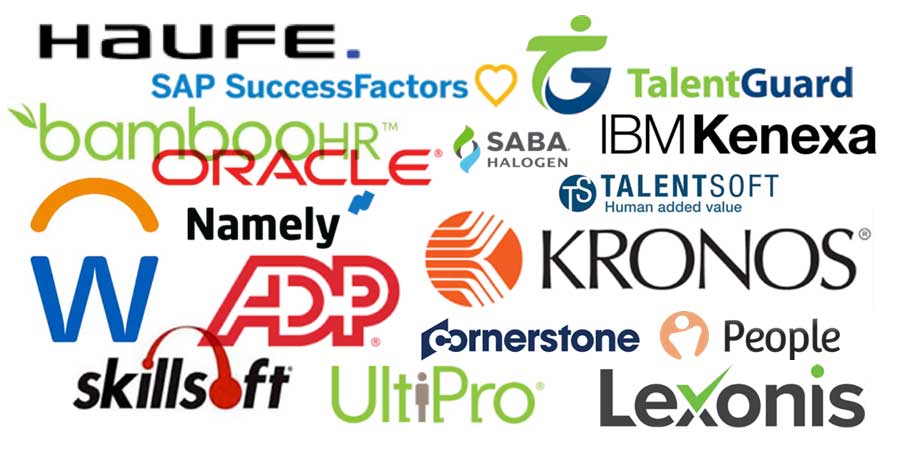 What Our Customers Say
---
"I've seen many overly complicated systems. This is a more simplified competency dictionary."