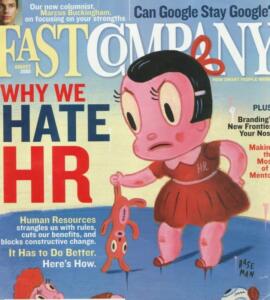 In August, 2005, the business magazine FastCompany published a thought-provoking article written by Keith Hammonds, titled "Why We Hate HR".  It was meant to be the viewpoint of non-HR executives at the time. We are re-publishing it here to stimulate an assessment and discussion of the points that were made in the article, points that may have or may not have had a ring of truth nine years ago. We encourage you to post your comments. Do some executives still view the HR function this way? How has HR changed and how does it still need to change?
___________________________________________________________________________
IN A KNOWLEDGE ECONOMY, COMPANIES WITH THE BEST TALENT WIN. AND FINDING, NURTURING, AND DEVELOPING THAT TALENT SHOULD BE ONE OF THE MOST IMPORTANT TASKS IN A CORPORATION. SO WHY DOES HUMAN RESOURCES DO SUCH A BAD JOB — AND HOW CAN WE FIX IT?
Well, here's a rockin' party: a gathering of several hundred midlevel human-resources executives in Las Vegas. (Yo, Wayne Newton! How's the 401(k)?) They are here, ensconced for two days at faux-glam Caesars Palace, to confer on "strategic HR leadership," a conceit that sounds, to the lay observer, at once frightening and self-contradictory. If not plain laughable.
Because let's face it: After close to 20 years of hopeful rhetoric about becoming "strategic partners" with a "seat at the table" where the business decisions that matter are made, most human-resources professionals aren't nearly there. They have no seat, and the table is locked inside a conference room to which they have no key. HR people are, for most practical purposes, neither strategic nor leaders.
I don't care for Las Vegas. And if it's not clear already, I don't like HR, either, which is why I'm here. The human-resources trade long ago proved itself, a