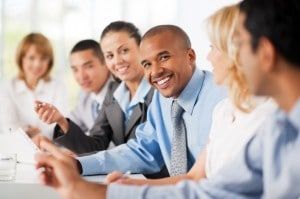 According to a Bloomberg article, globally, 161.7 million workers are expected to depart from companies in 2014; that's a 13% increase from 2012! At this rate, companies who do not take action today may be setting themselves up for extensive HR-related costs down the very short road ahead. For large companies, these costs can even translate to millions of dollars wasted on trying to offset a turnover ratio that could have been minimized with relatively simple practices.
Needless to say, this phenomenon leaves little doubt to the fact that one of the top issues facing organizations, leaders and managers in the New Year is employee retention.
Fulfillment in the workplace
When we hear of employee retention strategies, many first think of 'engagement'. But what does this mean? How can you ensure you're truly engaging your employees, and, most importantly, how do you keep that engagement level up week after week, month after month, year after year?
Surely, having engaged employees supports organizational success, at the very least through minimal turnover costs, but keeping employees engaged is no easy task. Essentially, engaged employees are fulfilled employees – i.e., employees who have everything they need to do their job effectively, under good conditions, and who take pride in what they accomplish and in the organization for which they work.
A great indicator of an effectively engaged workforce consists in employees who are not only present in the workplace day after day, but who are also invested in generating positive results for the company – rather than just performing a task in exchange for wages. This is often why small businesses attract spectacular talent, despite a lower salary range. These employees thrive on the challenge ahead, on the contribution they can make to this growing organization. They will often devote many more hours to the job, taking pleasure in knowing that their work will be noticed, rewarded and praised. In other words, they are given the opportunity to make a difference.
Finding 'success" in succession planning
If you're a larger size company, granting that level of freedom to all employees may prove to be a challenge, if not impossible. Instead, take a look at the reasons why your employees have chosen to be part of your organization. For many, the opportunity for career advancement is a driving force behind choosing a job within a large organization. If that's the case, an effective engagement tool could very well be your succession planning system.
Every well-executed succession plan has goals – goals pertaining to change, productivity and costs, for example. These objectives have a far greater chance of coming to fruition with a workforce that is driven by career advancement and professional development. So why not invest in training an entry-level candidate with this passion and drive, instead of hiring a rightly skilled candidate who isn't all that convinced about what the future holds? When looking at it from this perspective, the secret may lie in defining the right competencies for your organizational goals, instead of focusing strictly on job-specific (or technical) competencies.
The not-so-secret recipe to engagement and retention
There are many factors involved in engaging and retaining driven and talented employees, but begin by considering the following:
Do your practices ensure that your employees feel like they are "part of the team"? This means allowing employees the constant opportunity for a voice in the goings on within their department. Keeping them "in the loop," so to speak.
Are your career advancement opportunities and higher-level job expectations clearly defined? Do your employees know what is expected of them to be afforded the chance to grow within your organization, or is it all guess work?
Are your employees being valued and recognized for their contribution – not just through a rewards system, but also with simple "thank you's"?
To keep turnover costs low and retain your best talent, start thinking of your workforce in the same manner you would a personal relationship: Nurture, consider, listen and communicate. And most importantly, don't ignore their desire to build a future of their own… with you.
To learn more about retention or succession planning strategies, contact us or browse our website for more information.

To learn more about our products and services, and how competencies and competency models can help your organization, call 800-870-9490, email edward.cripe@workitect.com
or use the contact form at  Workitect.
©️2019, Workitect, Inc.